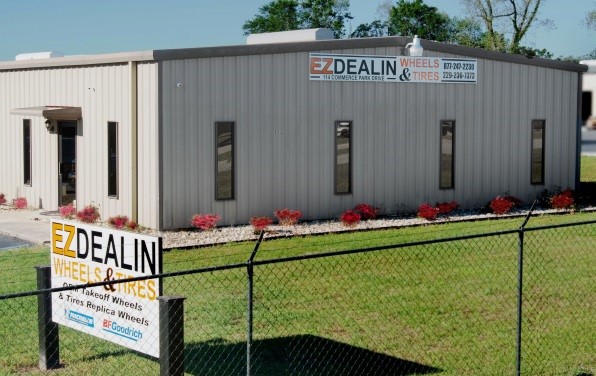 We know that you, as the consumer, have many options to purchase your automotive accessories. EZDealin was established so our customers could buy with ease and with confidence. We strive for excellence in every phase of our business. We offer both e-commerce and our showroom/store location in Thomasville, GA to make purchases convenient wherever you are. We also offer free shipping on every purchase made on our e-commerce platforms, eBay and ezdealin.com. There are no hidden shipping charges or fees that surprise you at checkout. Unlike some online retailers that never even touch the product, we have a warehouse full of the latest style wheels and tires.
Our new EZDealin Imaging Service can provide you an idea of what the wheel and tire package you intend to purchase will look like on your vehicle. Each EZDealin employee is trained to the fullest extent to provide excellent service to our customers in order to provide a smooth and pleasant transaction. We ship any size wheel or wheel and tire package via UPS. This provides us the ability to ship to a residence or to a business address.
Many places provide service to the customer before the sale. What sets us apart is that we provide services to our customers after the sale. Our phone lines are open for calls during and after business hours to provide any service we can or to answer any questions customers may have. Our 99.9% customer satisfaction feedback on eBay proves that we stand behind our products before, during, and after the sale.
EZDealin is a family owned business with a tight knit group of employees that work together to make the customer feel as though they are part of our family. Our customers are called by name and treated as though we personally know you. As some customers have experienced, if you stop by our store during lunch time you can be invited for a home cooked meal while you have your wheels and tires installed.
So stop by or call and say Hi to our team. We will give you a great deal and even better service.